Political Map of the Baltic Region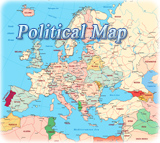 Cherry bloom in the King's Garden, a park in Stockholm, Sweden. The park's central location and its outdoor cafés and restaurants makes it one of the most popular meeting places in the city. It also hosts open-air concerts and events in summer, while offering an ice rink during winters.

Copyright © Geographic Guide - Maps World, European Continent.