South America in the Globe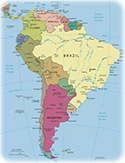 Lake Titicaca and coast of Peru. Titicaca, the largest freshwater lake in South America, is located in a depression in the Altiplano (high plains) between the eastern and the western range of the Andes Mountains. Lake Titicaca covers an area of 8300 km², is nearly 190 km long, and has an average width of 72 km. Fed by many mountain streams that border the Altiplano, the lake is drained only by the Desaguadero River, which flows south into Lake Poopó. Water levels can vary as much as 5 meters from season to season and year to year. Much of the lake water is lost through evaporation caused by intense sunshine and strong winds. Since the late 1980s, drought has plagued this region of the Altiplano, causing water levels in the lake to drop below normal. Drastic drops in water level in the lake could eventually affect the moderating climate of this high-altitude lake 3800 meters above sea level, which could lead to reduced agricultural crop yields. The agricultural crops of wheat and maize help sustain many Indians that live along Lake Titicaca's shores (by NASA).
The first lighthouse of America. The Farol da Barra, built in 1668, in Salvador, the first Brazilian capital and one of the oldest cities of the continent.
South America is the southern part of the American Continent. The other parts are: North America, Central America and the Antilles.

Copyright © Geographic Guide - Maps World. American Continent.
View of Olinda and Recife in Pernambuco, Brazil (divulgação).
Puerta de la Ciudadela in Montevideo, capital of Uruguay (divulgação).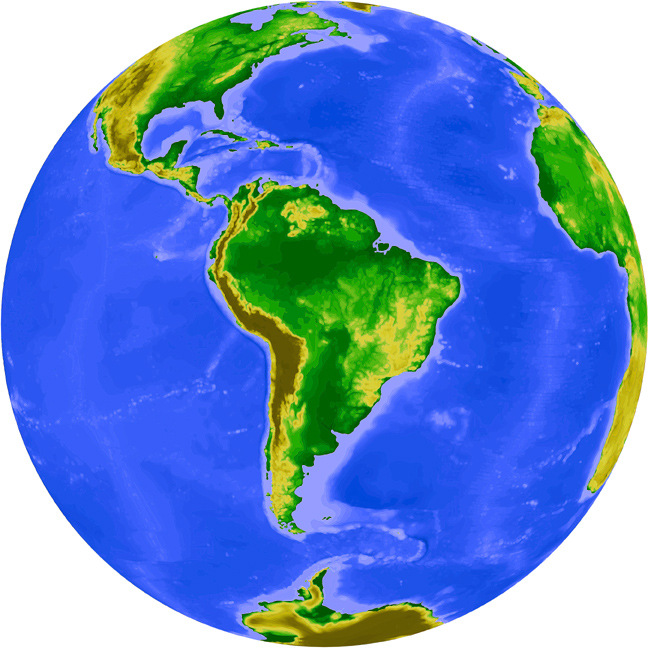 South America in the Globe