In 1507, Martin Waldseemüller, a German cartographer put the name America in a map, for the first time. It was in fact in middle and southern part of South America.
America was named after Italian merchant and explorer Amerigo Vespucci. After navigating with Portuguese along the Brazilian coast, Vespucci envisioned that there would be a "New World" on that part of the Planet. Not to be confused with the lands discovered by Columbus years before. Originally, America was a part of South America, mainly Brazil and its westward extension to the Pacific Coast, not yet discovered by Europeans at the time.
The last known copy of this magnificent world map is in the Library of Congress Geography and Map Division Washington, D.C.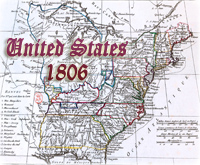 | | |
| --- | --- |
| Copyright © Geographic Guide - Historic Maps of World. | |