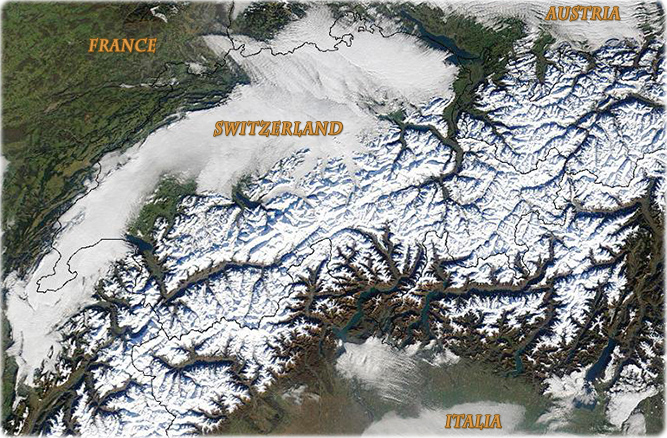 Copyright © Geographic Guide - Maps World, European Continent.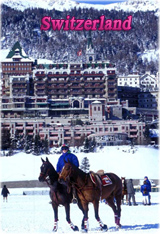 Capital of the country is Bern. Switzerland has the following border countries: Austria 158 km, France 525 km, Italy 698 km, Liechtenstein 41 km and Germany 348 km.
This image reveals Lake Geneva and the elongated valley between the Jura Mountains of France and the high Bernese Alps of Switzerland. Crescent-shaped Lake Geneva, 70 km long, is noted for its deep-blue, remarkably transparent waters and seiches, tidal fluctuations that suddenly change the lake's water level. The Rhone River enters the lake from the Bernese Alps to the east and exits the lake at its south end through the city of Geneva. North and west of Lake Geneva are the Jura Mountains (visible along the northern edge of the photo) that extend in northeast-southwest, narrow, parallel ridges. Their rounded crests and summits are covered with pine forests and good pasturelands. Hydroelectric plants scattered throughout the mountains supply power to pulp and paper, textile, watchmaking, and woodworking industries. The Jura Mountains are a popular year-round resort area. East of Lake Geneva are the snow-capped Bernese Alps (visible along the eastern edge of the photo) that afford some of the finest winter sports and mountaineering terrain in the world. The Bernese Alps, consisting primarily of granite and metamorphic rocks that are extremely resistant to erosion, have an overlay of sedimentary formations that have buckled up and folded. Subsequently scoured by glaciers, the mountains are now marked by deep valleys, knife-edged ridges, and steep walls that rise abruptly from lower slopes. Surrounded by vineyards northeast of Lake Geneva is Neuchatel, an elongated lake 39 km long and 6 to 8 km wide (NASA, October 1994).