The land of windmills and clogs is also known as The Netherlands (Nederlanden). It is a modern industrialized nation, a major exporter of agricultural products and a founding member of the European Union. The Netherlands is divided into 12 provinces: Drenthe, Flevoland, Fryslan, Gelderland, Limburg, Groningen, Noord-Brabant, Noord-Holland Overijssel, Utrecht, Zeeland and Zuid-Holland.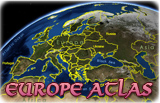 Cafés in a canal of Amsterdam.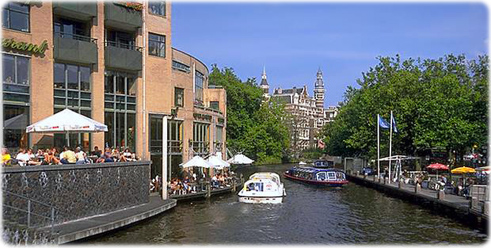 Copyright © Geographic Guide - Maps World, European Continent.
The capital and largest city is Amsterdam, and the seat of government is The Hague. More: Map of Netherlands ►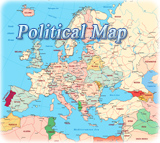 One of the main square in The Hague with the statue of William of Orange.
Amsterdam was founded in the 12th century as a fishing village. It was one of the most important ports in the world in the 17th century, when Amsterdam's iconic canals were developed. In 2012 the old city was added to UNESCO's World Heritage list.
Basilica of St. Servatius in Maastricht.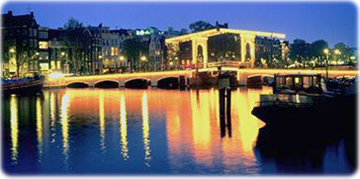 The Magere Brug, a bridge over the river Amstel in Amsterdam.
Amsterdam, business district.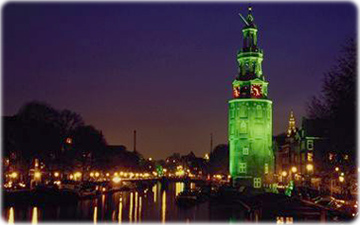 The Montelbaanstoren, a tower on bank of the Oudeschans, Amsterdam, originally built in 1516.